| | |
| --- | --- |
| ISSN: 2578-2010 (Online) | Applied Chemical Engineering is an international Open Access journal that publishes original research articles and review articles related to all areas of applied chemical engineering. This journal covers bioenergy, environmental chemical engineering, resources, pollution, reaction kinetics, chemical process, nanotechnology, bioreactors, catalysis, material synthesis and other applied researches. |
Online Submissions
Registration and login are required to submit items online and to check the status of current submissions.
Already have a Username/Password for Applied Chemical Engineering?
GO TO LOGIN
Need a Username/Password?
GO TO REGISTRATION
Submission Preparation Checklist
As part of the submission process, authors are required to check off their submission's compliance with all of the following items, and submissions may be returned to authors that do not adhere to these guidelines.
The submission has not been previously published, nor is it before another journal for consideration (or an explanation has been provided in Comments to the Editor).
The submission file is in OpenOffice, Microsoft Word, RTF, or WordPerfect document file format.
Where available, URLs for the references have been provided.
The text is single-spaced; uses a 12-point font; employs italics, rather than underlining (except with URL addresses); and all illustrations, figures, and tables are placed within the text at the appropriate points, rather than at the end.
The text adheres to the stylistic and bibliographic requirements outlined in the Author Guidelines, which is found in About the Journal.
If submitting to a peer-reviewed section of the journal, the instructions in Ensuring a Blind Review have been followed.
Privacy Statement
The names and email addresses entered in this journal site will be used exclusively for the stated purposes of this journal and will not be made available for any other purpose or to any other party.
Article Processing Charges (APC)
Applied Chemical Engineering is an Open Access Journal under EnPress Publisher. All articles published in Applied Chemical Engineering are accessible electronically from the journal website without commencing any kind of payment. In order to ensure contents are freely available and maintain publishing quality, Article Process Charges (APC) is applicable to all authors who wish to submit their articles to the journal to cover the cost incurred in processing the manuscripts. Such cost will cover the peer-review, copyediting, typesetting, publishing, content depositing and archiving processes. Those charges are applicable only to authors who have their manuscript successfully accepted after peer-review.
| Journal Title | APC |
| --- | --- |
| Applied Chemical Engineering | $800 |
We encourage authors to publish their papers with us and don't wish the cost of article processing fees to be a barrier especially to authors from the low and lower middle income countries/regions. A range of discounts or waivers are offered to authors who are unable to pay our publication processing fees. Authors can write in to apply for a waiver and requests will be considered on a case-by-case basis.
APC Payment
Payments for APC of this journal can be made through our online PayPal payment gateway. Enter the article no. into the below textbox and select "Pay Now" to proceed with payment.
*Article No. is mandatory for payment and it can be found on the acceptance letter issued by the Editorial Office. Payment without indicating Article No. will result in processing problem and delay in article processing. Please note that payments will be processed in USD. You can make payment through Masters, Visa or UnionPay card.
Announcements
Research News: Blueprint outlined to add in 'fail-safes' for science publishing
Two prominent researchers that have frequently written about science's reproducibility problem have suggested seven key reforms that they say will improve the reliability of scientific publications.
Writing in the Journal of Clinical Investigation, Arturo Casadevall of Johns Hopkins School of Medicine in the US and Ferric Fang of the University of Washington say the reliability of the scientific literature is 'of the utmost importance to society'. 'However, in recent years, rising numbers of retracted articles, reproducibility problems and inappropriately duplicated images have increased concern that the scientific literature is unreliable,' the pair write.
Posted: 2018-09-12
Research News: Molecule undergoes unprecedented topology switch from Möbius aromatic to Hückel anti-aromatic when immersed in polar solvent
Scientists in Japan have developed a system that can switch its topology from being Möbius to Hückel and back again. Not only was this type of reversible switch unexpected, it could also be triggered by external stimuli such as a polar solvent. 
A cyclic molecule is Möbius aromatic if it has [4n]π electrons and anti-aromatic (destabilised) if it has [4n+2]π electrons. The opposite is true of Hückel systems – a system with [4n+2] conjugated electrons is aromatic and a [4n]π electron system is anti-aromatic. Aromaticity brings stability, so you would expect [28]hexaphyrins – having [4n]π electrons – to adopt an aromatic Möbius topology. 
Posted: 2018-09-12
Research News: Macrocycles power up carbon nanotubes
Interlocked molecules tune the electronic properties of nanotubes, allowing researchers to control their catalytic activity
Carbon nanotubes are a green alternative to metallic catalysts. However, tuning their activity relies on difficult and invasive chemical processes that normally damage the nanotubes' structure. Now, only a few years after reporting the first mechanically interlocked nanotube derivatives, Emilio Pérez and his team at the IMDEA Nanoscience Institute in Madrid, Spain, have envisioned how to use these non-covalent modifications to power up the catalytic activity of carbon nanotubes.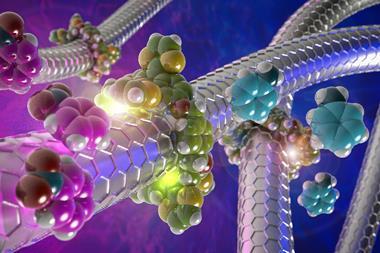 Posted: 2018-09-12
Vol 2, No 3 (In publishing)
Table of Contents
Articles

Swarnalata Sahoo , Smita Mohanty , Sanjay Kumar Nayak

Pages:
Articles

Fathy A. Abdel-Wahab , Heba Abdel Maksoud

Pages: