Long-term drought and improper maintenance of water resources have intensified the contradiction between the supply and demand of water resources. Groundwater is developed and utilized by more and more regions because of its excellent water quality and stable water quantity. Human beings have an increasing demand for groundwater. Therefore, how to evaluate groundwater resources is an urgent problem to be solved.
that the water balance method, hydrological analysis method, mining test method, analytical method, numerical method, and hydrogeological model method (GIS), is the methods of evaluating groundwater resources. At present, the application of GIS in groundwater resources evaluation is mainly limited to data management and calculation result expression.
In Mohana's study, digitally enhanced Landsat ETM+ data was used to extract information on geology, geomorphology(see Figure 1). The results demonstrate that the integration of remote sensing, GIS, traditional fieldwork and models provide a powerful tool in the assessment and management of water resources and development of groundwater exploration plans.
For information, please click: https://systems.enpress-publisher.com/index.php/JGC/article/view/904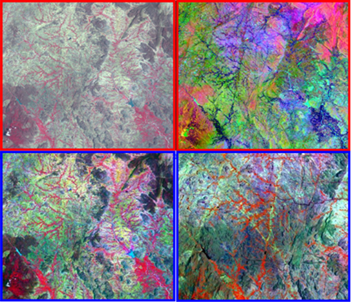 Figure 1. Enhanced Landsat-ETM+ images. A. FCC (4-3-2). B. PCA (4-3-2). C. Decorrelation Stretched (4-3-2). D. Subset image highlight the various hydrogeological
References:
[1] He JJ. Evaluation method of groundwater resources. Architectural Engineering Technology and Design 2014; (34): 616.
[2] Wei JH, Wang GQ, lI CJ, Shao JL. GIS-based groundwater resource evaluation, Journal of Tsinghua University(Science & Technology) 2003; 43(8): 1104-1107.
[3] Mohana P, Muthusamy S. Use of earth observation images and GIS techniques for groundwater exploration in Hard Rock Terrain. Journal of Geography and Cartography 2021; 4(2): 28-38.