Wildfires are a phenomenon that can alter ecosystems, damage property and infrastructure, and harm the wellbeing of at-risk populations. This trend in larger, more severe wildfires escalates the need for improved wildfire prevention planning by land managers. Improved planning requires fire risk mapping to identify the most at risk areas. Fire risk mapping has been an ongoing area of research for decades but no agreed upon method has yet been developed. Typically, fire risk mapping applies remote sensing and existing geographic data to acquire variables entered into a spatially explicit model to determine the hazard for specific areas and then evaluate the risk on the consequences of these hazards. This enables the land managers to address areas of high fire risk and reduce the current risk to better prepare for future fire events.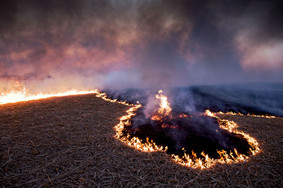 It is important to differentiate between fire hazard, risk, and danger as these terms have different meanings. Fire hazard is a rating of the chance of an ignition event and propagation potentials based off conditions in the landscape. Fire risk builds upon fire hazard by adding vulnerability into the assessment which is based on value and loss estimates for the landscape. Fire danger maps fire potential based on meteorological conditions for an area.
Characterizations of fire hazard, risks, and danger have been accomplished through climatic interpolation, hybrid models, and remote sensing/GIS Each of these methods possesses advantages and limitations.
For details, please click 
https://systems.enpress-publisher.com/index.php/JGC/article/view/451
https://systems.enpress-publisher.com/index.php/JGC/article/view/753