Recent studies have shown that the epidermal growth factor receptor (EGFR) plays a critical role in cancer development and progression, including cell proliferation, apoptosis, angiogenesis, and metastatic spread.
Since EGFR overexpression has been correlated with disease stage, reduced survival and development of tumor metastases in a number of malignancies a variety of different approaches are currently being used to treat patients with malignant tumors which express EGFR including targeting EGFR with anti-EGFR monoclonal antibodies and tyrosine kinase small molecule inhibitors to prevent autophosphorylation and downstream intracellular signaling.
Epidermal growth factor receptor (EGFR) inhibitors, which target EGFR mutations, are used to treat lung cancer. However, cutaneous toxicities, including dry skin, acne-like eruptions, and rashes, occur frequently.Given that side-effects indicate cancer cell sensitivity and they correlate with the therapeutic effect, it is important to continue the administration of EGFR inhibitors while managing their side-effects.
The increased target specificity of epidermal growth factor receptor (EGFR) inhibitors (EGFRIs) is associated with the reduction or abolition of nonspecific and haematopoietic side effects. However, coincident inhibition of receptor activity in tissues that depend on EGFR signalling for normal function has undesirable consequences. Because of the key role of EGFR signalling in skin, dermatological toxicities have frequently been described with EGFRIs.
Epidermal Growth Factor Inhibitor-induced Cutaneous Toxicity , which are a major side-effect of EGFR inhibitors, dryness can be alleviated or prevented by using moisturizers.Some study aimed to investigate the treatment of cutaneous toxicities caused by EGFR inhibitors by comparing patients who used a cosmetic moisturizer,  with those who used conventional medical moisturizers.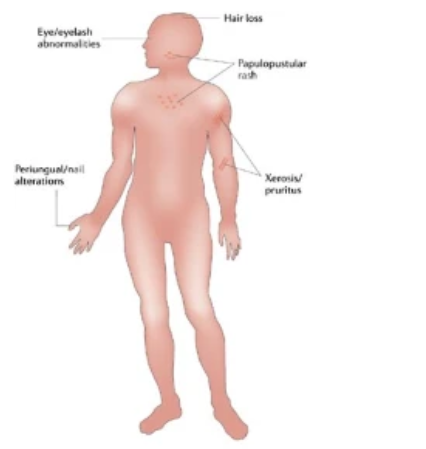 References:
[1]Papouchado, B., Erickson, L., Rohlinger, A. et al. Epidermal growth factor receptor and activated epidermal growth factor receptor expression in gastrointestinal carcinoids and pancreatic endocrine carcinomas. Mod Pathol 18, 1329–1335 (2005). https://doi.org/10.1038/modpathol.3800427.
[2]https://systems.enpress-publisher.com/index.php/ti/article/view/1187
[3]Lacouture, M. Mechanisms of cutaneous toxicities to EGFR inhibitors. Nat Rev Cancer 6, 803–812 (2006). https://doi.org/10.1038/nrc1970.
[4]https://link.springer.com/article/10.1007/s11523-009-0114-0