ISSN:

2572-7923 (Print)
2572-7931 (Online)

Journal abbreviation:

J. Infras. Policy. Dev.

The Journal of Infrastructure, Policy and Development (JIPD) is a multi-disciplinary, double-blind peer-reviewed journal dedicated to publishing high-quality articles on infrastructure, economic development, and public policy. The three words in the journal's title, "infrastructure", "development" and "policy" are core to the vision of this journal.

With its broad scope covering development-related issues, a novel feature of this journal is that it covers the whole range of infrastructure, including both "hard" infrastructure and "soft" infrastructure, where soft infrastructure is broadly defined to include education system, healthcare system, law enforcement, financial system, government system and other types of institutional arrangements.

JIPD has a target audience consisting of academic researchers, industry professional practitioners, and regulatory institution policymakers. It aims to provide a reliable platform for the transfer of knowledge and to facilitate discussions in the areas of development-related policy initiatives and infrastructure.

Relevant (but not limited to) topics to JIPD:

Education system
Healthcare system
Social system
Innovation of policy
Institutional reform
Physical infrastructure
Urban development
Green development
Climate-resilient infrastructure
Sustainable infrastructure
Infrastructure finance
Infrastructure governance
Vol 7, No 3 (Published)
Table of Contents
Original Article

Nina Yuslaini , R. Widya Setiabudi Sumadinata , Muhammad Fedryansyah , Abdillah Abdillah , Andi Luhur Prianto , Doris Febriyanti




Original Article

João Fragoso Januário , Álvaro Costa , Carlos Oliveira Cruz , Joaquim Miranda Sarmento , Vítor Faria e Sousa




Original Article

Seema Rehman , Saif Ullah , Fahad Azim , Haroon Ur Rasheed Khan




Original Article

Kefas Bagastio , Raymond Sunardi Oetama , Arief Ramadhan




Original Article

Xiaolong Chen , Cora Un In Wong , Johnny F. I. Lam , Hongfeng Zhang




Original Article

H. I. Tillekaratne , P. Wickramagamage , Induka Werellagama , Upaka Rathnayake , Chandana Siriwardana , Asela Bandara , C. M. Madduma-Bandara , T. W. M. T. W. Bandara , Amila Abeynayaka




Original Article

Valery Bezpalov , Liudmila Goncharenko , Dmitry Fedyunin , Sergey Lochan , Svetlana Avtonomova




Original Article

Anđelka Štilić , Adis Puška , Darko Božanić , Duško Tešić




Original Article

Hsing-Hua Hsiung , Chia-Yen Lin , Guan-Yu Zhu




Original Article

Melina Dritsaki , Chaido Dritsaki , Eleni Tsianaka




Original Article

Fahad Saddique , Beenish Ramzan , Shouvik Sanyal , Jebreel Alamari




Original Article

Irina Makarova , Vadim Mavrin , Polina Buyvol




Original Article

Abieyuwa Ohonba , Gbenga Wilfred Akinola




Original Article

Haisheng Hu , Samuel Amponsah Odei




Original Article

Marie Mikusova , Ivona Vrdoljak-Raguz , Terezie Krestova , Nadezda Klabusayova




Original Article

Sriyanto Sriyanto , Luqman Khalil , Imran Naseem , Abdelmohsen A. Nassani , Rima H. Binsaeed , Khalid Zaman , Hailan Salamun , Mohamed Haffar




Original Article

Diego Norena-Chavez , Eleftherios Thalassinos




Original Article

Vera Finidia Indah , Budiman Rusli , Rita Myrna , Zaidan Nawawi




Original Article

Marvellous Ngundu , Reon Matemane




Original Article

Lucky Zamzami , Nursyirwan Effendi




Original Article

Andi Gunawan , Mediaty Mediaty , Andi Kusumawati , Syamsuddin Syamsuddin , Mursalim Nohong




Original Article

Ganila N. Paranavithana , Rashmi N. J. K. Arachchi , Upaka Rathnayake




Original Article

Narissara Jantuma , Sukhum Ruangchai , Chavis Ketkaew , Phaninee Naruetharadhol




Original Article

Tri Minh Nguyen , Vu Van Thanh




Original Article

Cordelia Onyinyechi Omodero , Ebieri Jones , Babatunde Moses Ololade , Olugbenga Ekundayo




Original Article

Mahmood Abdullah Mahmood Al-Gburi , Mohammad Ali Bagherpour Velashani , Mahdi Salehi




Original Article

Yaqdhan Abd Ali Kareem Wahab , Mohammad Ali Bagherpour Velashani , Mahdi Salehi




Case Study

Bity Salwana Alias , Rorlinda Yusof , Amran Rasli , Md Jais Ismail , Muhammad Nur Asyraf Nordin , Mohd Radzi Ishak , Silvi Asna Prestianawati , Imelda Hermilinda Abas , Khairul Azhar Jamaludin




Review Article

Alexey Mikhaylov




Review Article

Leilei Jiang , Walton Wider , Jem Cloyd M. Tanucan , Jonna Karla C. Bien




Review Article

Nadia Mansour




Announcements
New Style for JIPD Published Papers
We have revised the layout for articles to be published in the new issues, starting at the beginning of 2024. As of today, the article templates available for download on 'Author Guidelines' pages have been updated.
The blank column on the left runs through all pages in an article. The revised layout was applied in the article pictured below, to serve as an example: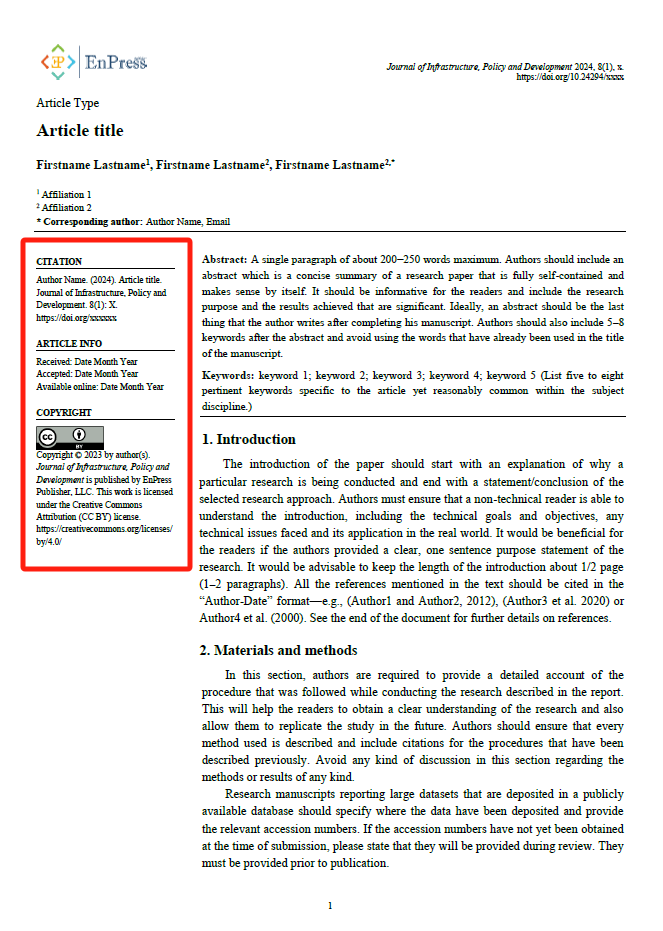 Posted: 2023-11-29
Publication frequency becomes quarterly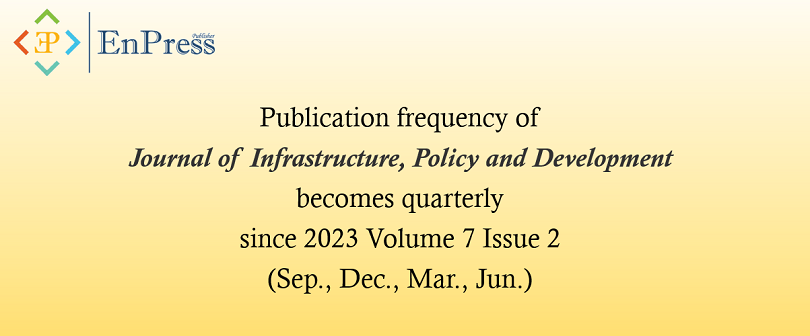 Posted: 2023-09-06
APC for Journal of Infrastructure, Policy and Development set at 1200 USD from August 2023
Starting from August 2023, the Article Processing Charge (APC) for Journal of Infrastructure, Policy and Development will be set at 1200 USD.

Authors submitting their manuscripts to the journal can expect rigorous peer review, prompt and constructive feedback, and a seamless publication process. We believe that this APC will ensure that we can continue to maintain the journal's high standards, including rigorous editorial processes, professional copy editing, and open-access publication.

Thank you for your continued support. We look forward to receiving your submissions and continuing our collaborative efforts to advance the field of infrastructure (hard and soft) and policy/development issue related.
Posted: 2023-07-13