The Journal of Infrastructure, Policy and Development (JIPD) is a multi-disciplinary, double-blind peer-reviewed journal dedicated to publishing high-quality articles on infrastructure, economic development, and public policy. The three words in the journal's title, "infrastructure", "development" and "policy" are core to the vision of this journal.

With its broad scope covering development-related issues, a novel feature of this journal is that it covers the whole range of infrastructure, including both "hard" infrastructure and "soft" infrastructure, where soft infrastructure is broadly defined to include education system, healthcare system, law enforcement, financial system, government system and other types of institutional arrangements.

JIPD has a target audience consisting of academic researchers, industry professional practitioners, and regulatory institution policymakers. It aims to provide a reliable platform for the transfer of knowledge and to facilitate discussions in the areas of development-related policy initiatives and infrastructure.

Relevant (but not limited to) topics to JIPD:

Education system
Healthcare system
Social system
Innovation of policy
Institutional reform
Physical infrastructure
Urban development
Green development
Climate-resilient infrastructure
Sustainable infrastructure
Infrastructure finance
Infrastructure governance

 

 

 

Journal Abbreviation:

J. Infras. Policy. Dev.
Vol 7, No 3: (In Publishing)
Table of Contents
Original Article

Nina Yuslaini , R. Widya Setiabudi Sumadinata , Muhammad Fedryansyah , Abdillah Abdillah , Andi Luhur Prianto , Doris Febriyanti




Announcements
Publication frequency becomes quarterly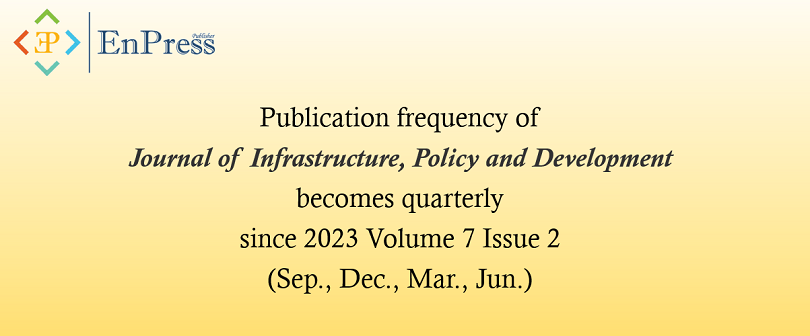 Posted: 2023-09-06
APC for Journal of Infrastructure, Policy and Development set at 1200 USD from August 2023
Starting from August 2023, the Article Processing Charge (APC) for Journal of Infrastructure, Policy and Development will be set at 1200 USD.

Authors submitting their manuscripts to the journal can expect rigorous peer review, prompt and constructive feedback, and a seamless publication process. We believe that this APC will ensure that we can continue to maintain the journal's high standards, including rigorous editorial processes, professional copy editing, and open-access publication.

Thank you for your continued support. We look forward to receiving your submissions and continuing our collaborative efforts to advance the field of infrastructure (hard and soft) and policy/development issue related.
Posted: 2023-07-13
Journal Impact Factor Released -- 0.7
A new milestone in /JIPD/!
We got our first Impact Factor--0.7, just released by Clarivate on JCR! We extend our heartfelt gratitude to the continued support of our editorial board members, authors, reviewers, and readers!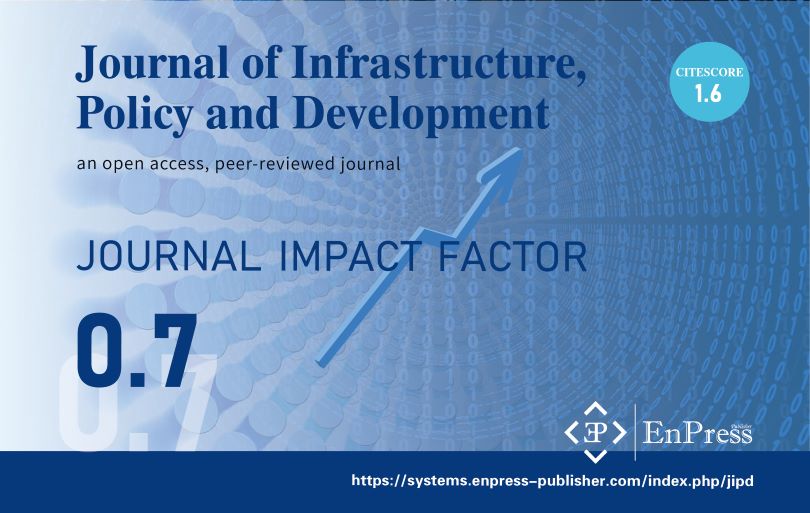 Posted: 2023-07-03